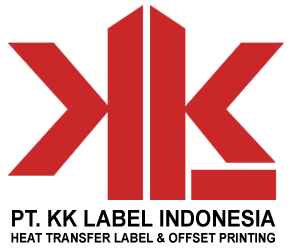 PT. KK Label Indonesia is a company engaged in the business sectors of industry and trade in printing paper (coated one side, two side coated, uncoated 2 side), stickers (gloss and uncoated sticker) and Heat Transfer Label (Paper, PET and Reflective). The products we produce are products labels (hangtag, price tags, layers, stickers, paper boxes, etc.) as well as the products of Heat Transfer Label (Halo Free Eco, Agility, etc.)
Establish in Indonesia since 2011 and is a branch of Kumkang Korea Label. Office and factory is located in the industrial area of Lippo Cikarang, Bekasi, West Java and stands on an area of 5,951 m2. Supported by more than 150 skilled employees and high-tech machines.
After more than 3 Decades established, we always maintain the quality, innovation and flexibility in accordance with the times and the market. We will always ensure customer satisfaction by providing competitive prices and with the best quality. The products we produce are also varied, like the ordinary hangtag label design, Custom Label Design as customer's request, including BARCODE manufacture.
All the materials we use are certified with MSDS and environmentally friendly paper, made from virgin pulp (100% pulp without bleached / dye paper). Almost all waste we send to the paper mill for recycling.
Product Excellence
Hangtag label and heat transfer labels (HTL) is used mostly as an accessory on clothes, shoes, cosmetics, and as a code of goods such as price tags, stickers, care labels and others.
The main function of a hangtag label and Heat Transfer Labels are as identification of the goods attached specifically naming the date of production, brand, care labels, price, etc.
We are experienced in making labels with offset printing process are of good quality and guaranteed quality. In the selection of raw materials, we use various types of paper including: kraft paper, art carton, Neo Night, Cresendo, black paper, Ivory, Mohawk Paper, Coated 1 side, 2 side Coated, uncoated 2 side, etc. in which the use of these types of paper making our products are quality assured and also friendly to the environment.
Some labels we produce can provide results with a variety of effects including: embossed, debossed, pp matte lamination, gloss lamination pp, soft touch varnish, stamp foild, reflective, etc.
Especially for Heat Transfer label Product, we use our best raw materials like below:
Halo free eco (Paper) : matte paper 540 mm x 390 mm dan 390 mm x 360 mm
CCP (Paper) : cast coated paper 390 mm x 360 mm, give gloss effect on label
Agility (PET – Gloss Film) : PET Gloss 540 mm x 390 mm dan 390 mm x 360 mm, give gloss effect on label.
Agility (PET- Matte Film) : PET matte 540 mm x 390 mm dan 390 mm x 360 mm, give matte effect on label.
Reflective (PET with special effect) size 390 mm x 360 mm.
All materials supplied by Kumkang Korea. As for ink, raw materials obtained from Korea by using 18 kinds of colors including primary colors (CMYK). For final finishing type of powder that we use is the type of powder PE (normal quality), PU (for metallic inks) and PA (high quality). Quality labels we produce include ink NPP (Non-Phthalate PVC Plastisol ink-free and phthalate free), waterbased and solvent. Sample production heatseal labels we produce are care label (position inside the fabric) and logo (a position frontside cloth)